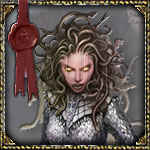 Medusa is an incredibly sinister and evil individual, as well as a very powerful witch. Her greatest skill is her ability to manipulate almost anyone with Golden Sentence, due to her unbelievably high skills in acting.
This object contains magic that serves as an ingredient in the creation of new items. Some of them can be used, for example, in the production of high-level wings. Golden Sentence drops in whole Dungeon and Swamp of Darkness from monsters named "Medusa"
During hountung seasson on Medusa from Phoenix of Darkness Dark drop Phoenix Flame in Icarus , Death Beam Knight Soul - drop in Tarkan from Death Beam Knight, Hell Maine's Leather - drop in Aida from Hell Maine and Death king's bone - drop in Lorencia, Noria from Death King.